Thinking about studying abroad and actually living in a different country, experiencing the new, post-pandemic reality? Now is the best time to finalise your decision, while admissions to Kaunas University of Technology spring semester are still open. Choose your study programme and apply until December 15, 2021.
"Living in Kaunas is really nice. I especially love the nature here – it is very calming. Also, it was easy to adapt while also not expensive. I am surprised that most people my age speak English, so it was easy to communicate. That made my experience living here really smooth", says Malak Bakkour from Lebanon, studying master's in Mechatronics – one of the programmes available for the spring intake.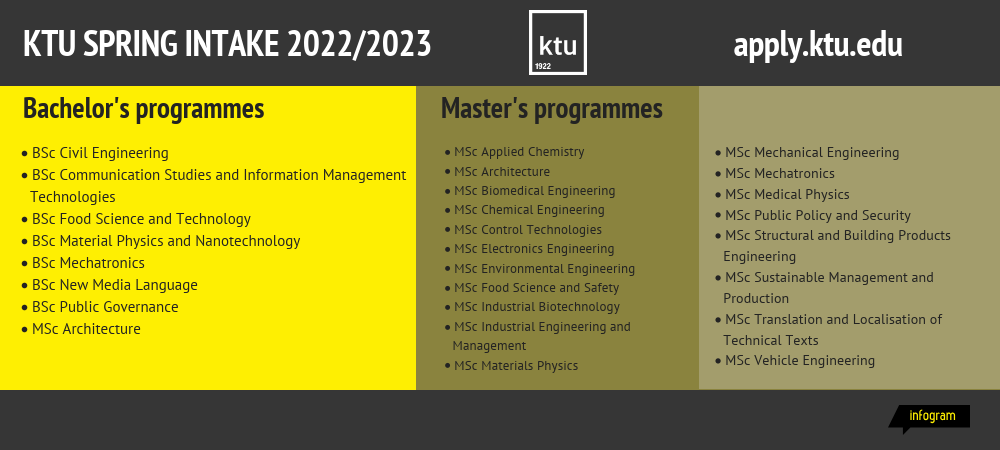 2022 is the best year to start your studies at Kaunas University of Technology for more than one reason. Firstly, at KTU, world-class education is available at a fraction of the price: check it yourself. (Plus, living in Kaunas is really affordable.) Secondly, next year is the centenary year of the University of Lithuania from which KTU stems, and there will be loads of events connected to the occasion. Thirdly, in 2022 Kaunas will become a European Capital of Culture – there will be more events than there are days in the year. Don't take our word for it, see the programme yourself.
There are 9 bachelor's and 19 master's programmes open for the spring intake. Check all of them here.
Apply by December 15 and start your studies at KTU in February 2022.