Best greetings to all new Kaunas University of Technology (KTU) international students joining us this year. Right before the start of the spring semester, which begins next Tuesday, February 1, we are inviting you to take part in the Welcome Week, packed with events, both informative and fun. Check out the full programme here.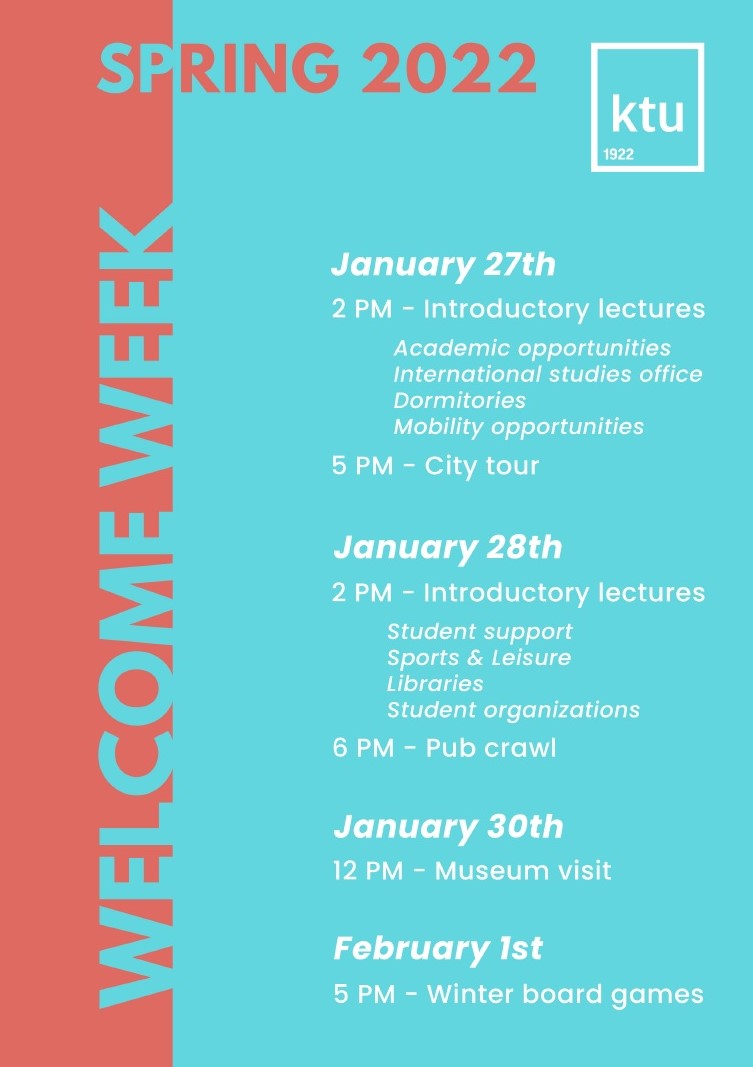 KTU Welcome Week Spring 2022 takes place from Thursday, January 27 till Tuesday, February 1. In the first couple of days, you are invited to take part in the seminars, where you will get to know not only your fellow international students but also will be introduced to the main facilities, processes and student services available at KTU. In the evenings, you will be able to cement your new friendships via fun activities such as a pub crawl, a city tour or board games night. On Sunday, January 30, a visit to a museum is planned. In 2022 Kaunas is a European Capital of Culture, therefore, get ready to see something impressive.
"We are very excited to meet and greet our new students. We are committed to supporting them in their transition to a new country, new University, both inside and outside the classroom. During the Welcome Week, the International Studies Office together with other University departments and student organisations are working to create a mix of in-person and digital events to help you get settled and ready for your studies," says Audronė Račkauskienė, Head of the KTU International Studies Office.
This spring KTU welcomes more than 250 new international students, more than a third of them are coming to study full-time. The majority of the full-time students come from India, Nigeria, Turkey, Iran, Morocco and Lebanon. In addition, we are happy to welcome students from Mexico, Vietnam, Yemen, France, Honduras and Russia to their first study semester. For several years in a row, the exchange studies at KTU are the most popular among French, German and Italian students. However, this year we are also receiving exchange students from Mexico and Indonesia.
Welcome and best of luck in your studies, new friends!