"Before I left the United States, I was told to expect a lot of things by people who have never been to Lithuania. None of those things came true", says James Gray, one of the first Erasmus+ exchange students coming to Kaunas University of Technology (KTU) from the University of Central Florida (UCF) in the United States.
KTU was recommended to the second-year public administration master's student by one of his professors. James is one of the two UCF students studying in KTU this spring. Going back to Florida after the semester at KTU, James might become a source of reliable knowledge to the prospective students of a dual degree KTU-UCF Public Governance study programme, which will start this autumn.
The semester of studies in Lithuania is James' time outside the US.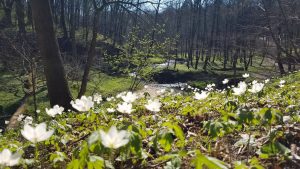 "If I made any presumptions before coming here, I wouldn't be open to new experiences, I wouldn't know how beautiful this city is. People
presume knowledge, but there's a big difference between reading or hearing about a place and actually going there", says James.
James says that Lithuanians are more reserved than Americans, but it suits him. Actually, James admits that the main challenge for him was to get over his timidity and shyness: "I didn't want to stick out, to be recognised as a foreigner".
First shock – cashiers do not bag your things
Half-joking, James says that there's a rumour that Europeans recognise Americans by the way they walk, and he is surprised to hear that he looks very Lithuanian. Although most of the things he heard about Lithuania turned out to be untrue, James' first grocery shopping experience wasn't as smooth as one would expect.
"The thing that shocked me as the most different from the US is the way cashiers work here. (By the way, I know that this is not Lithuanian, but European thing.) Back home, we have a cashier who stands and a person who puts your things into the bag, so it's usually two people. Here, the cashiers usually sit, they don't bag your stuff, and you have to pay for the bags", says James.
Being open to new experiences, the American student stays wide-eyed. He's not only trying to learn from the new experiences but also records them for his blog, from which excerpts are published in the KTU student paper, "Njuspeipis".
Alongside his studies at KTU, James is also busy with his internship at Transparency International. At the same time, he is trying to keep up with the activities he left at home, such as creating playlists for the radio show he hosted in Orlando.
Mediator between urban planners and the public
The public administration student's academic interest lies in urban planning. In the future, James imagines himself working in a position which would allow him to do not only the technical, analytical planning work but also to discuss solutions to land use issues with the public.
"If I am good at anything, it's taking complicated information and presenting it in a way that a general audience would understand", says James.
His other interests include working in a museum: "I've done a lot of volunteer work in museums back home, and I'm interested in how they maintain their collections, how they solicit donations and funding, and how they manage these big non-profit models".
Asked about the studies at KTU, James admits that it took time for him to adjust to a less controlled structure, but he appreciates the challenge and the personalised approach to the teaching.
Lithuanian cities have character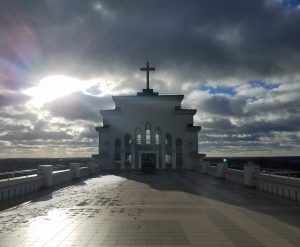 Coming from a relatively young city, James is fascinated by the possibility of exploring the old cities of Kaunas and Vilnius, seeing how the old structures loaded with history are working alongside new developments.
"Orlando is glass and steel. Everything is new and expensive. I understand that as a citizen of Kaunas you might not be very excited about old buildings and wall paintings, but for me, they indicate a certain character. Orlando is void of unique identity, although I understand that being home for Disney and Universal makes it attractive and interesting", says James.
The main thing James enjoys about Kaunas and Vilnius is that they are pedestrian-friendly and that they have efficient public transport. In Orlando, according to James, one needs to plan a minimum of an hour if one wants to get anywhere by bus. To James, car drivers in Lithuania seem to be much more respectful of pedestrians than the ones in the US.
For James, Kaunas is a city of parks, staircases and buildings with inner courtyards, which are very interesting to explore. In Vilnius he enjoys art, architecture and interior design. Aware of the eternal rivalry between the two largest Lithuanian cities, James remains neutral in his preferences.
"I like observing cities, seeing their personalities and characteristics, but I don't like comparisons. Even if I'm not the biggest fan of Orlando I prefer it be judged on its own merits and not be compared to other cities", says James Gray, an American studying public administration at KTU this spring.
Admissions to study at Kaunas University of Technology are now open. Choose your studies and apply today on apply.ktu.edu