Kaunas University of Technology (KTU) Professor Rymantas Jonas Kažys received the award of Kaunas City Scientist 2018. The award ceremony took place in Lithuanian Academy of Science in the end of last year.
Professor was bestowed the award for outstanding research in the field of measurement and diagnostic technologies under extreme conditions and for the life-long merits for fostering ultrasonic research in Lithuania.
"I am pleasantly surprised and grateful, indeed. Even more so that the award was given for the accomplishments of all my professional life – not for a week or a year. Kaunas is the only city, which has this kind of award, and I think it is a great way to support scientists", says Rymantas Jonas Kažys.
According to him, ultrasonic research is a very complicated field of science as it needs very extensive and deep knowledge of mathematics. Professor started working in the ultrasonic research laboratory at the University while still studying here. After 20 years since its establishment, KTU Ultrasound Research Institute has not only become one of the best equipped and successful ultrasound research institutes in Eastern Europe, but also a founder of other institutes and branches of research, such as biomedical engineering.
"Our field is very dangerous. Why? If you stop improving, doing new things, you will be left aside and overtaken. Ultrasonic research has developed immensely over the years – due to new technologies, equipment and possibilities, the projects become more and more complicated", says Professor Kažys.
He considers the project MYHRA with the Belgium Centre of Nuclear Research, during which the way to neutralise radioactive waste was created, as the most impactful and important research project in his scientific career.
Professor Kažys maintains that talent, hard work and luck are almost equally important factors of success for a scientist: "There is a saying: do it once and do it right. I would say – do it better than others".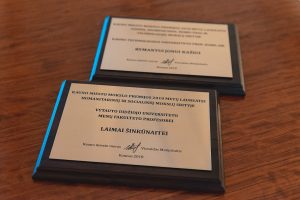 Kaunas city established two City Scientist awards – for exceptional achievements in humanities and social sciences and for research in physical, biomedical, agricultural and technological sciences. The award in humanities and social sciences was bestowed to Vytautas Magnus University Professor Laima Šinkūnaitė for Kaunas sacral heritage study.
The distinguished Kaunas scientists were congratulated by Kaunas City Mayor Visvaldas Matijošatis, the President of Lithuanian Academy of Sciences Jūras Banys, its Vice-President Zenonas Dabkevičius, Chancellor of Lithuanian Ministry of Education and Science Tomas Daukantas. During the ceremony the scientists introduced their work.
Professor Rymantas Jonas Kažys is a member of Lithuanian Academy of Sciences; he was appointed a Member-Expert of the Academy in 2001 and in 2006.