The acceleration of technology adoption, the emergence of new business models, and changes in our lifestyle increases the demand for certain skills and roles within organisations. Also, the very jobs we are doing are changing. New professions are emerging, and the employees are expected to have a wide range of competencies and knowledge.
BA+ study model, offered by Kaunas University of Technology (KTU) aims at meeting the needs of a very complex and dynamic contemporary job market. In April 2021, 206 students were already studying according to this brand-new undergraduate study model.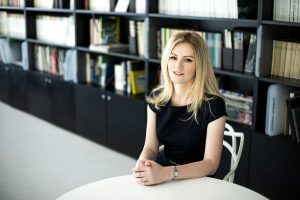 "BA+ study model is akin to MA+, which we have been offering to KTU students for several years. In BA+ studies, the student can choose the competence (out of 25, taught in Lithuanian or English), which they wish to develop through the study years", says Kristina Ukvalbergienė, Director of KTU Department of Academic Affairs.
BA+ is a study alternative available in certain KTU study programmes. By choosing BA+, students can acquire knowledge and skills in an additional branch of studies, and in such a way discover new career perspectives. For example, a student studying engineering may choose to develop, say, design or computer-aided design competencies, choose something that is not directly related to the study programme, and learn a second foreign language (Spanish, Italian, Swedish, etc.).
"This study model allows students to strengthen their abilities as future specialists, to acquire additional competencies that will help to have a broader vision", says Dr Ukvalbergienė.
In such a way, students can tailor their education to their needs and plans.
Flexible education model
In the full list of bachelor's programmes, those offering BA+ alternatives are marked with a special sign. The students can choose from the list of competencies selected for specific degree programmes.
"A 4-year study programme can have 18 or 30 credits for BA+ competencies development, 3-year study programmes provide 18 credits for BA+. The modules required to achieve the chosen competence are completed by the graduation", says Dr Ukvalbergienė.
A BA+ competence block can be used as a study plan alternative next to specialisation, personal module set or the subjects aimed at deepening the knowledge in the branch of study field.
"Study programme descriptions list all possible alternatives. They differ depending on the study programme: in some BA+ competencies can be chosen, some programmes allow an individual set of modules, in some cases, if a student doesn't choose a specific competence block, they can include other available modules to their study plan. Also, certain study programmes offer specialisations, which prepare specialists for certain careers", explains Dr Ukvalbergienė.
After completion, the certificate is provided
The availability of the BA+ competence block is indicated on the Academic Information System. The students whose study programme includes the BA+ option are informed about the application procedure in a separate e-mail letter.
"The competence block is only taught if a group of students assembled and it is compatible with the study schedule. April of this year was the first when a BA+ study model was available for students. 206 students decided to choose the option; from the autumn, depending on their choice, a total of 16 competencies will be taught", says Dr Ukvalbergienė.
The BA + study model is currently available for the students of the Business Digitization Management, Informatics and New Media Language.
Acquisition of the BA+ competence during one's studies will be proved by a special certificate and an entry in the KTU diploma supplement.
Find out more about study programme alternatives and the BA+ study model here: https://admissions.ktu.edu/degree-students/bachelor/