Kaunas University of Technology (KTU) received a note of gratitude for promptly responding to a request for help and providing urgently needed IT tools to the war-ravaged Poltava County in Ukraine.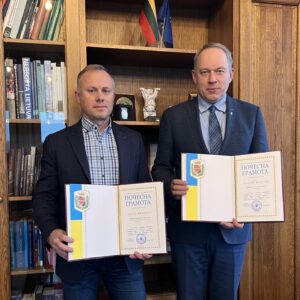 On November 18, at the Embassy of Ukraine in Lithuania, the director of the KTU Information Technology Department (ITD) and the leader of the Lithuanian science and study computer network LITNET expert group Arvydas Žiliukas received letters of gratitude for the operational assistance. A letter of gratitude was also handed over to the University Rector, Eugenijus Valatka.
Back in August, KTU ITD, as a technical centre of LITNET, received a request to support Poltava County with equipment, which would help restore data transmission and the Internet in educational institutions in areas affected by war.
The Ukrainians asked for various data transmission equipment – switches, routers, Wi-Fi equipment, which were destroyed or severely damaged by Russian aggression. The aforementioned equipment is vital when trying to restore damaged IT infrastructure and services or when installing new ones.
KTU ITD quickly responded to the request and within a few days, the University's engineers prepared available and unused data transmission switches for operation – a total of 40 units. They were transferred to general cargo, which was delivered directly to Poltava.
"We don't feel that we accomplished a heroic act, because the donated equipment was neatly stored, we just needed to check that each device was working. Almost the entire team of one unit of out department contributed to this task, so we are very happy and proud about it," said Žiliukas.
So far, it was the first time that specific help was requested from LITNET and the Lithuanian academic and IT community. The Embassy of Ukraine seeks to continue to maintain relations with the University regarding support in the future.
"On behalf of LITNET, I will remind and additionally urge the community of academic and scientific IT networks and services of European countries to continue to help Ukraine with the necessary IT tools through GEANT, our umbrella organisation," said the director of ITD.
The university reminds that everyone can donate to Ukraine. Some of the trusted foundations and organisations are listed below:
https://www.aukok.lt/projektai/Musu-sirdys-ir-rankos-Ukrainai
https://ukraina.vilnius.lt/en/how-can-i-help-ukraine/
https://supportukrainenow.org/