In 2019, before the world knew the term "coronavirus", global box office revenues totalled $42 billion. However, this year's estimates are far from great. The virus creates uncertainty – the pandemic has halted film production, cinemas are closing, film festivals moving online. How did COVID-19 affect Bollywood, the largest film producing industry in the world? What are the solutions and their outcomes? Find out in the virtual lecture, organised by KTU India Centre on Friday, November 27.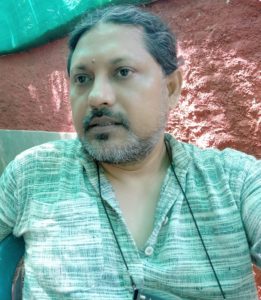 "The Indian film industry, which was paralysed due to the outbreak of the deadly virus, started to limp back by August with a whole set of new rules and protocols in order to improve work conditions and ensure the safety of health. However, the rules were challenged or they turned out to be inadequate showing us how badly equipped we are to face the current challenge", says Mr Sudipto Acharyya, an Indian film director, the speaker of the virtual lecture on "Cinema in Post Pandemic India", organised by KTU India Centre on November 27, 2020.
Mr Acharyya has directed several short films and one feature-length film for television and other institutions. His Diploma film Harbour Line was part of NO MASALA TOURING FILM FESTIVAL in Germany and was also exhibited at the Asia-Europe Short Film Festival-2007 in Washington DC, USA. Mr Acharyya's first independent production is Weekend Chill, a crowd-funded digital film.
Currently, Mr Acharyya is a Senior Faculty at Whistling Woods International in Mumbai, India. His workshops on film appreciation, documentary history: ethics and aesthetics, experimental cinema and short film screenplay writing are well attended by film students across India. He presented papers on cinema at international conferences in Lithuania, South Africa and Turkey. Mr Acharyya is part of an Artistic Research project involving BRICS nations that looks at social interstices with the help of cinematic practices.
The lecture "Cinema in Post Pandemic India" is part of a series of events organised by India Development Cooperation Centre AKA India Centre of KTU. According to the Head of India Centre Runa Chakraborty Paunksnis, Associate Professor at the KTU Faculty of Social Sciences, Arts and Humanities, the Centre aims to spread awareness about India not only among the students of KTU but also to the wider community, outside the University walls.
"Though geographically far apart, India and Lithuania have similar political, social and cultural histories. I believe that our student and academic communities benefit from each other through intellectual and cultural transactions", says Runa Chakraborty Paunksnis.
By the end of the year, two more events will be organised by India Centre – an orientation workshop on Cultural Communication and Conflict Resolution for the academic community and an open online lecture for both the university and the wider public.