Thinking about studying abroad, but worrying about the costs? We suggest checking out the Kaunas University of Technology (KTU) scholarship list. Firstly, all KTU international applicants are eligible for a full or partial tuition fee waiver, dependent on their entrance score. Secondly, all EU citizens can apply for a state-funded study place. Thirdly, numerous other financial aid opportunities open up once you become a KTU student.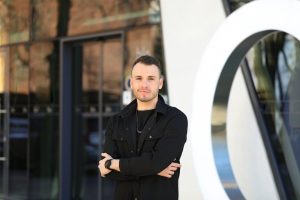 "I wanted to study aeronautical engineering and was looking for studies in Europe. On the KTU website, I read through their master's programme curriculum, and it looked very interesting. As a European citizen, I got a free study place, and after my first semester, I was awarded the Talent Scholarship. KTU was a perfect choice from many points of view, including the financial one," says Carlos Sosa Henríquez from Spain, studying master's in Aeronautical Engineering.
Although sometimes thinking about funding your studies can cause a real headache, KTU is taking care of this by offering multiple financial aid possibilities. Don't miss the perfect opportunity to become independent and culturally wise, to improve your language and leadership skills. Choose your study programme, check the scholarships available and apply.
Scholarships and funding opportunities at KTU:
SCHOLARSHIP FOR INTERNATIONAL STUDENTS. All prospective students who submit their application through the official application page will automatically become candidates to receive a full or partial tuition fee waiver, which is assigned for the first-year Bachelor's or Master's students with strong academic records and motivation. The application closes on July 31, 2022.
STATE FUNDING FOR EUROPEANS. Citizens of the European Union can study at Lithuanian universities, including KTU, for free. Based on your entrance score, you will compete for a state-funded study place with all the applicants. For more information, please contact international@ktu.lt
LOYALTY PROGRAMME. International KTU graduates who successfully graduated with their bachelor's and are applying for master's at the same university, can get tuition fee discounts.
INCENTIVES FOR STUDENTS. Many scholarship possibilities open up once you start studying. KTU students can apply for Talent, Sponsors', Incentive Scholarships, and an Accommodation Grant. Check all the scholarships here.
Admissions are open until the end of July 2022. Make your pick and apply soon!