Last Thursday, on June 23, almost two thousand new talented professionals joined the international job market, ready for career breakthroughs, and eager to share their knowledge and skills. Among them, were 113 international students from almost 30 countries. The impressive 99th KTU Graduation Ceremony took place at Žalgiris Arena.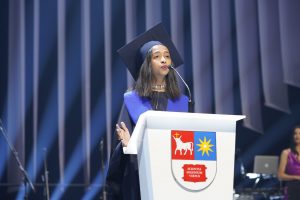 "Dear classmates, we did it! We passed the endless exams, completed and defended our projects, and finally, we are here. We did it because we believed that we could. Imagine, what else we could do in our life", said Giriprakash Das Roshini, who has just graduated with BSc in Materials Physics and Nanotechnology.
In her speech during the ceremony, the recent graduate from India shared her personal story – first coming to Lithuania when she was 17, leaving family and friends 5 thousand kilometres away.
"When my plane landed after 19 hours of flight, I was tired, and had too much luggage; it was cold and rainy. However, I was met by a smiling face carrying a welcoming sign from the Kaunas University of Technology. Since that moment, the university has always been this smiling face, offering me numerous opportunities: student organisations, Erasmus exchange and volunteering possibilities. I met new people and made lifetime friends", said Roshini admitting that the time has come to travel beyond the known social and cultural horizons.
A total of 1,917 graduates graduated from KTU in 2022. This June, KTU diplomas were awarded to 1,747 graduates, including 1,121 bachelors, 600 masters, and 26 graduates of vocational pedagogy. Among them, there were 113 international students from 28 countries.
This year's graduation was exceptional as KTU celebrates the 100th anniversary of the University of Lithuania, from which all Kaunas universities stemmed. In commemoration of this occasion, the diplomas were specially marked.
"A hundred years ago, when our university was founded, there was no peace or stability in the world. However, there were a bunch of dreamers, people, who not only dreamed but also planned; from these plans, a truly wonderful thing – the University emerged", said KTU Rector Eugenijus Valatka in his congratulating speech, encouraging the fresh graduates to dream big.
Virginija Vitkienė, the Director of Kaunas – European Capital of Culture 2022 was inviting the graduates to remember that a diploma grants a greater responsibility to share knowledge, experience and values with others.
In the official ceremony, the diplomas were awarded to all Bachelor's and Master's studies graduates of the Faculties of Chemical Technology, Electrical and Electronics, Economics and Business, Informatics, Mathematics and Natural Sciences, Mechanical Engineering and Design, Construction and Architecture, Faculty of Social Sciences, Humanities and Arts. Also, in the ceremony participated the freshly graduated doctors of science.
In the event, the teachers for using innovative, student-centred methods in the study process were also awarded. The graduation ceremony was spiced up with the performances of Gabrielė Vilkickytė, who won the breakthrough award of the year in Lithuania, electronic and dance music group Golden Parazyth, KTU brass orchestra The BrassBees, the folk group Nemunas, modern dance studio MoDance.
More photos on Facebook.