Have you been accepted to the study programme of your dreams and cannot wait for your KTU adventure to start? Congratulations! For your smooth transition to the new country, university and culture, take care of the essentials. Better be safe than sorry as the saying goes.
What documents do you need to legally enter Lithuania? How to get to Kaunas? What to pack? And what about the culture shock? The number of questions before relocating to a foreign country can be overwhelming. Take a deep breath and relax – some of the answers you will find below. Any additional questions will be answered by the friendly and dedicated staff of the KTU International Studies Office.
1. First things first: visas, permits and health insurance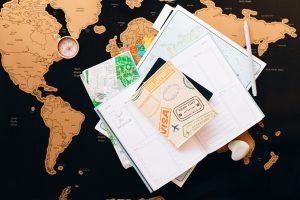 After receiving the acceptance letter from KTU, start preparing for your arrival. Most importantly – apply for a visa if you need one and get health insurance.
If you are a citizen of one of the 27 European Union countries – you do not need a visa to study in Lithuania.
The students who are non-EU/EEA countries' citizens need a D-type visa. To apply for the visa, you will need a Mediation Certificate from KTU, which will be sent to you via the online system by the International Studies Office. Visas are issued at the embassies, diplomatic missions or consular offices of the Republic of Lithuania abroad. If there is no legal representation of the Republic of Lithuania in your country, you will have to travel to get your visa elsewhere. Once you arrive in Lithuania, you need to apply for a Temporary Residence Permit.
It is important to have a reliable health insurance policy while you are studying abroad. If you are from an EU/EEA country, please make sure that you have a valid European Health Insurance Card (EHIC) – this you can obtain from the social security authorities in your home country. Students from non-EU countries may purchase their health insurance either in their home country or in Lithuania.
It would be also sensible to visit your doctor and get a physical before you leave to ensure you are in good health. Bring along a copy of your medical records in case of an emergency overseas.
2. Find accommodation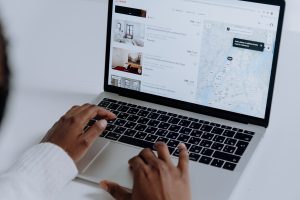 Accommodation at KTU dormitories is available to all university students. In the dormitory, you may have a single or shared room, and access to the common kitchen, laundry and other facilities. Monthly rent rates vary: depending on the room type you may pay from €76 to €233 per month. This September, KTU will meet its student community with a renewed infrastructure – a refurbished dormitory will be opened for residents. Take a sneak peek inside and start dreaming about moving in!
Those valuing their privacy or willing to live elsewhere can opt for private accommodation. There are many websites offering accommodation in Kaunas. Also, you may check groups on social media (search term: butu nuoma Kaune) for options. The rent might cost from €150 to €400, depending on the size and other qualities of the accommodation chosen, and you will need to pay the bills (electricity, water, heating, etc.) on top.
Although KTU does not intermediate in finding the flat or dealing with the landlord, there is plenty of information on accommodation on our website.
3. Plan your trip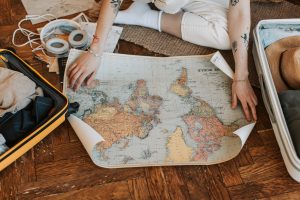 Lithuania is easily reachable by plane, bus, ferry or train. Although some of those options may lead you to Vilnius or Klaipėda, Kaunas is situated in the middle of the country, just an hour's drive from Vilnius, and can be reached by train, bus or car. If you use public transport, you will end up in Kaunas Bus Station (Kauno autobusų stotis) or Kaunas Railway Station (Kauno geležinkelio stotis). They are situated next to each other and close to the city centre.
If you are planning to arrive by plane, check Vilnius, Kaunas and Palanga airports. Finding cheap aeroplane tickets depends on timing and luck. Fares can vary greatly depending on when you want to fly and where you are buying your ticket from. There are several flight scanning services (Kayak, Skyscanner, Esky, etc.) that can offer an overview of possible ways to reach Lithuania by air. Ryanair, Wizzair and AirBaltic are the low-cost airlines operating in Lithuania.
Overall, don't overstress about arriving at Kaunas – our mentors, trained by Erasmus Student Network KTU and KTU Students' Union will not only meet you but also show you around the city.
Make sure you arrive at least a week before the semester starts, not to miss the Welcome Week, which is a great way to get to know your university, and new home town and make new friends.
4. Research local culture, customs and people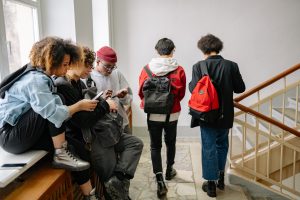 Do you know what it means to be a culturally sensitive traveller? Such travellers are prepared to blend into the environment, experience the new place as locals and get the most out of their stay in a country far from home.
Take some time to better familiarise yourself with your future study country, Lithuania. By knowing even briefly your soon-to-be home's culture, history, geography, economy, and government your study abroad experience will be enriched and your time spent more meaningful.
You can start with the official websites for overseas travellers, investors and students. Kaunas, the second largest Lithuanian city, and a student capital (there is a bigger concentration of students here than in any other Lithuanian city) has also a lot of information for international travellers. In 2022, Kaunas is a European Capital of Culture – make sure not to miss the opportunity to experience world-class culture in your new home town.
Talk to others who have been there and seek opportunities to watch movies and read more about the country and its culture. Check out the KTU Ambassadors – among them you may find your fellow countryman who is also a KTU student. The Ambassadors are a friendly group of international KTU students dedicated to helping their peers to adjust to the new environment.
The majority of Lithuanians will speak English or Russian also, however knowing a few Lithuanian words and phrases might help greatly in the beginning. When you are at the university, enrol in classes for learning Lithuanian. Life will feel different once you understand the locals.
5. Pack wisely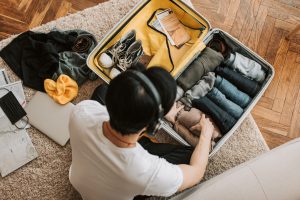 Pack light (one checked bag, one day bag, and one personal item) – keep in mind that you will need to travel to your final destination with all your luggage. Take with you the essential warm clothes, travel-sized toiletries, adapters for your electronics (if you need them), and a few mementoes from home to help you with homesickness. Consider bringing a journal or notebook to reflect and write about your study abroad experience – who knows, maybe one day this will become a book!
There are four seasons in Lithuania, it rains often, and the sun is out during warm seasons. Our winters might feel rather cold for someone coming from a warmer climate. However, we suggest you bring with you only essential warm clothes. There are plenty of shopping centres in Kaunas, where you will find all the necessary things for your stay here.
Before leaving home, make sure you have everything needed – from documents to cash for smooth travel.
6. Last but not least: money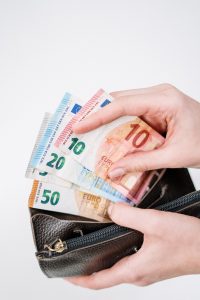 The local currency in Lithuania is the euro, a common currency in 19 European countries, including Lithuanian's Baltic neighbours Latvia and Estonia. This makes travelling and understanding the exchange rates easier. Kaunas is among the 36% cheapest places to live in the world with the average cost of living around €800 per month. Check out the average for basic expenses in Kaunas.
Once you arrive, you will set up a local bank account, however, in the beginning, it is recommended to have some cash with you. On your first days, you will need to pay the accommodation deposit, get Student Identity Card, pay for public transport, to buy things and food for your comfortable start.
Do you feel calmer already? Great! Think about all the excitement that you will get throughout this study journey. This will be the journey of your life, promise. Looking forward to greeting you at KTU.
_____
Useful links for more information: