From Tuesday, August 24, the admission to the KTU GIFTed Talent Academy starts. The KTU's talent development programme provides interactive workshops, real-life challenge solving, mentorship, and many more activities to develop your knowledge, personality traits, and leadership skills. By becoming a GIFTed student, you will lay a solid foundation for your future career.
More than 80 students are studying continuously at KTU GIFTed Talent Academy, and the first GIFTed class graduated in 2020.
"I made so many good friends after joining GIFTed, which is something I was struggling with the first month I was in Lithuania", said Sona Yavrumyan from Armenia who was studying Informatics at KTU.
GIFTed classes will continue throughout your study years. In the first year, you will work with career mentors, professionals in the business sector of your chosen study field, you will participate in the programme "7 Habits of Highly Effective People" for personal growth and emotional intelligence boosting. Also, you will acquire professional level knowledge by attending lectures by the best KTU teachers. During the second year, you will participate in real-life challenges provided by businesses and will continue to expand your knowledge in specially designed study modules. The third and the fourth study years will be devoted to further developing career and leadership competencies.
The students of the GIFTed Talent Academy are awarded a scholarship of €150 per month in the first semester of studies. From the second semester, throughout the study years, the GIFTed students received a €300 monthly scholarship.
Hands-on training from the very beginning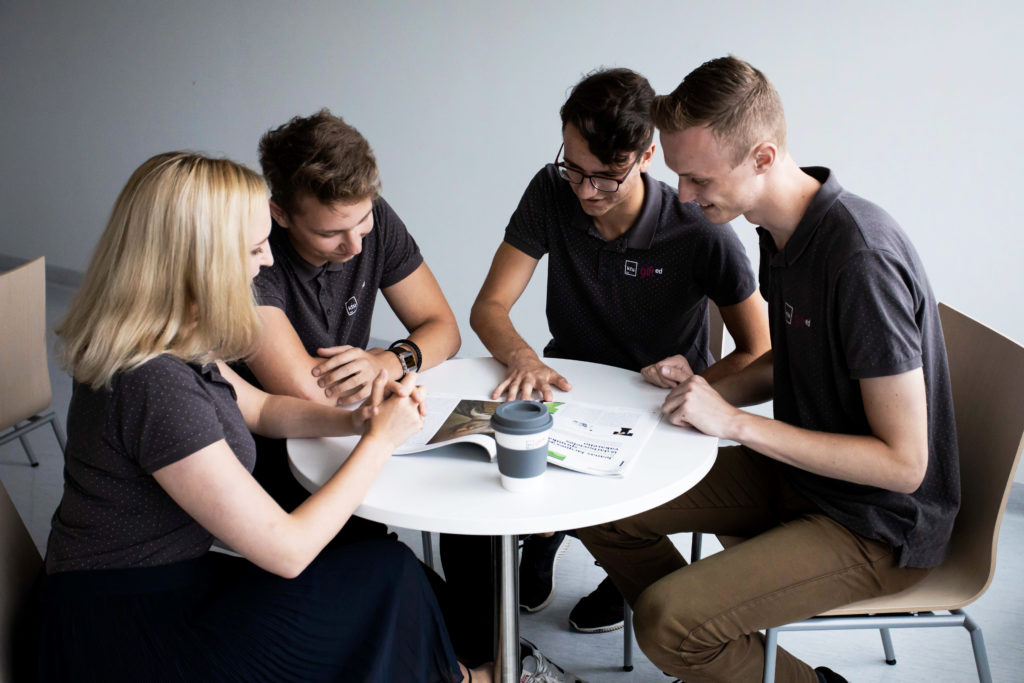 "It's great to have the opportunity to apply the knowledge gained during studies in practice and to find a solution to the real situation", said Nedas Našlėnas a second-year student of KTU Faculty of Chemical Technology.
From October to February, all the second-year students of the GIFTed Talent Academy participate in a professional career path project. This is one of the mandatory activities, designed to boost the students' skills in a subject field and entrepreneurship.
For example, Nedas, whose team worked with Achema Group, was developing a solution to reduce carbon emissions caused by the company's operations. Each team was assigned a mentor from the company they were working with who provided valuable insights and assistance throughout the process.
The solutions provided by student teams can be as varied as the companies involved. For example, the Informatics Faculty student Vytautė Lipeikatė with her team was designing a computer game.
"Our company, Indeform, unlike the others, didn't present a specific issue or a problem to be solved – we had to come up with it ourselves. That's how our project, a game reflecting one of the company's activities using a gesture recognition system was born", says Vytautė.
Like-minded peers and supportive mentors
Among other solutions developed by the GIFTed students is tool issuing system optimization for Kaunas Aircraft Maintenance Services, solutions for automating server infrastructure development for Centric IT Solutions Lithuania, and others.
"The earlier a student gets involved in practical activities, gets the knowledge of the actual work tasks and challenges, the better prepared they are for the career", says Dr Algirdas Noreika, CEO at Indeform.
Still wondering if you should join the GIFTed? While studying in this programme you will be surrounded by like-minded peers who will encourage you to aim for higher goals and to look for extraordinary achievements. Since its establishment in 2016, three GIFTed community members have completed internships in NASA, one student has done an internship in Amazon. In the project Creazone Reinvent, three teams of GIFTed students won prizes.
After graduating from GIFted Talent Academy, your skills and knowledge will be listed in an individual file of competencies, you will receive a letter of recommendation from KTU Rector and a diploma from the GIFTed Talent Academy. Entrepreneurship, teamwork, and leadership skills achieved during GIFTed activities will be a great asset for any career path you choose.
__
Join the most talented KTU students – participate in GIFTed selection from August 24 until September 14. The admission forms and requirements are available on the Academic Information System. For more information please visit https://students.ktu.edu/gifted/