Kaunas University of Technology (KTU) has signed a cooperation agreement with the world's leading travel meta-search company KAYAK. The agreement aims to ensure closer communication between the University and KAYAK Lithuania, one of the most important technological centres.
Acting together, the organisations seek to contribute to the dissemination of technology and science in society and to add to the development of the information technology and science community by sharing good practices.
"Together, we can achieve more! I am glad that KTU students will be able to get acquainted with the activities of an international company, and our employees will have the opportunity to share their knowledge and discuss the important challenges with KTU researchers," said Modestas Kapušinskas, CEO of KAYAK Lithuania, emphasising the mutual benefits of cooperation.
KAYAK Lithuania has already implemented a number of educational projects (We Can Code, KAYAK Academy) aimed at attracting interest and introducing people to the technologies in IT sector.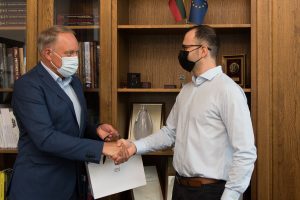 "Cooperation with KTU will allow us to join forces in organising such initiatives, and in such a way to increase the dissemination of science and technology in society and to encourage people to choose engineering studies. It is important for young people to observe successful IT professionals, to be able to communicate directly with them and to receive plenty of useful practical advice. This will inspire them to strive for best academic results and become professionals in their field," said Kapušinskas.
The partners agree that combining practical and scientific know-how can foster innovation, product development and provide faster dissemination of relevant knowledge.
"Cooperation with a well-known international company will open even wider opportunities for our students. The synergies between science and business, such as our current agreement with a market leader KAYAK is necessary for the cultivation of talented young people," said KTU Rector Eugenijus Valatka.
A large number of KTU students and graduates are already working at the KAYAK Lithuania Technology Centre. In 2018, after the company launched their internship programme, many students started their careers there from a paid internship position. This later allowed them to grow into engineers, team leaders and take up other senior positions in the company.
The mission of KAYAK is to help people experience the world by travelling. The world's leading travel meta-search system processes myriads of flights, hotels, travel packages and car rental requests every year. The Opentable reservation system helps over 60,000 restaurants, bars, wineries and other establishments seat more than a billion visitors each year. It also improves the internal processes of these institutions and increases their profits by attracting clients.
The KAYAK Technology Centre in Kaunas is an important part of this mission. More than 80 engineers working in this office contribute to all the company's systems – from architectural solutions, search engine core, SEO to internal systems, content platforms and integration with various partners.