Huriye Armağan Doğan, a young researcher from Kaunas University of Technology (KTU), Institute of Architecture and Construction, won a Baltic University Programme (BUP) PhD Award for the best doctoral thesis in the category of Social Sciences and Humanities. In 2021, The Baltic University Programme awarded two PhD students from the 95 BUP network's universities for their thesis defended in 2020.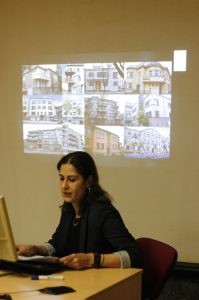 In the winning thesis "The Role of Cultural Memory in the Strategies of Adaptive Re-Use of Built Heritage" Huriye Armağan Doğan takes an interest in the relation between public perceptions and memories and the notion of "cultural heritage", as something that deserves protection. In practice, this topic is related to sustainability and adaptive reuse of historical buildings.
"It is a very sophisticated study of Modernist architecture in Ankara and Kaunas. Using both social surveys and experiments (based on eye-tracking technology), Doğan demonstrates in a novel way that assessments of cultural heritage are related to memories and associations; and that facades of historical buildings are assessed by people using a set of basic criteria: ornaments, lines, material/texture, interventions, patina, colour, and expressive architectural elements," state the Committee in their decision for the selection of a winner.
According to the Committee, the thesis is an ambitious attempt to understand why some historical buildings (and not others) are perceived as part of the cultural heritage, worthy of protection and preservation.
The scientific supervisor of the Doğan's thesis is Dr Vaidas Petrulis, Head of KTU's Architecture and Urbanism Research Centre.
The second winner of the BUP PhD Award in 2021 is Karīna Bāliņa from Riga Technical University. Her thesis, titled "Baltic Seaweed Biorefinery" under the supervision of Dr Francesco Romagnoli, presents a holistic conceptual model of biorefinery using seaweed biomass.
The Baltic University Programme (BUP) is a network of 95 universities located in 12 countries of the Baltic Sea Drainage Area. A BUP PhD Award, aiming to support the talented students from the network, was introduced by the BUP Board in 2013. The award is established in two research areas. Winners of the PhD Award receive a distinction in the form of a diploma, a statuette and financial support for either attending a scientific conference or publishing in a peer-review scientific journal.