Today, Kaunas Universities united for a unique initiative. For the first time, an extremely ambitious agreement was signed, authorising close cooperation in the fields of science, studies and practice between four higher education institutions: Lithuanian University of Health Sciences (LSMU), Kaunas University of Technology (KTU), Lithuanian Sports (LSU) and Vytautas Magnus University (Vytautas Magnus University).
This step is aimed at accelerating the dissemination of science and new technologies in society, strengthening the city's academic community and the image of Kaunas as an international student city.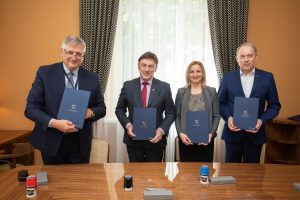 "It's a really exciting moment. Concentrating our efforts on strengthening the region and the country's industry is a valuable step for us; it allows us to add true meaning to the centenary of the University of Lithuania. I have always advocated for cooperation and joint activities, for turning the competition into collaboration in the name of common goals, which we all are aiming for," says KTU Rector Professor Eugenijus Valatka.
The four universities will exchange scientific and technological information, jointly prepare and implement research and other projects, jointly develop scientific output, and participate in scientific and other events.
The cooperation of the universities operating in Kaunas opens up a wide range of development opportunities for the students of these higher education institutions.
The form of optional inter-university classes/modules will allow young people to freely choose subjects of interest in other Kaunas universities, even if they are not directly related to their study programme. For students, who have taken such an optional module, the results would be credited in accordance with the university study regulations.
Already at the end of this semester, the students will be able to choose the first elective inter-university subjects, and starting from the autumn of the next academic year they will be able to enrich their curriculum with new experiences and knowledge.
It is also planned to create a joint study module to address the challenges of Kaunas city and the region and to jointly promote the universities' activities and initiatives to the public.