"My country in Georgian is called Sakartvelo, that's what it is now called in Lithuanian also", reminds Avtandil Arabuli from Georgia in the beginning of the conversation. Kaunas University of Technology (KTU) student speaks perfect Lithuanian, and when short of words, he starts to recite poetry. In Lithuanian, of course.
In the first year of his undergraduate studies in Georgian Technical University, Avtandil started to attend lessons of Lithuanian language and culture. That is how the student found out about the possibility to continue his master's in Lithuania.
"My friend told me that the Centre of Lithuanian Language and Culture has opened in our university and suggested us joining it. You know, Georgians can do a lot of things just to keep company to our friends. So, I started to study Lithuanian", says Avtandil and laughs.
Now, four years later, the Georgian student studies electrical energy engineering master's in KTU; his studies are funded by the scholarship from Lithuanian State.
After looking at the two technical universities in Lithuania, he chose KTU, as the study programme here had the most relevant subjects. Besides, in Avtandil's opinion, Kaunas is the city where one can really get to know "Lithuanian character".
Busses always come on time
"Lithuanians and Georgians have always been very good friends", says Avtandil Arabuli, remembering the Lithuanian President's Valdas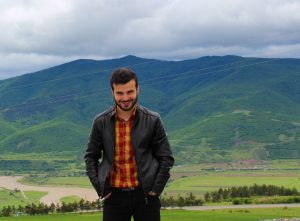 Adamkus visit in 2008 when Georgia had a war with Russia, "Lithuania is supporting Georgia's position in European Union's, NATO negotiations."
Asked about the similarities between Lithuanians and Georgians, Avtandil hesitates for a while. Then he agrees that although temperamentally very different, the both nations could learn from each other.
"Lithuanians could learn from Georgians to be warmer and more open, and we could learn how to be on time and more devoted to work", says KTU student, smiling.
He admits being fascinated by busses and trains being always on time, and by people keeping to the schedule.
"Back home, if a teacher told you to come at 10am, it might mean that you'll get your meeting at 3pm. Here, in Kaunas, if you are told to come at 9am, everybody will be on that time, sharply", says Avtandil.
Learned Lithuanian poetry, folk dances and songs
Avtandil is one of many Georgian students, who are coming to study to Lithuania already speaking the language and having knowledge about our culture. Around 50 students from different Tbilisi universities attend free lectures at the Centre of Lithuanian Language and Culture in Georgian Technical University.
"Our teacher, the leader of the Centre, Vidas Kavaliauskas had a very good methodology. Firstly, he was really interested that we wouldn't skip the lectures, therefore was always adjusting to our schedules. Also, we were not only learning vocabulary and grammar, but also songs, dances, poems. This really helped to communicate when I came here – when I am short of words, I start to recite poetry and everybody melts", says Avdandil.
Although happy in Lithuania, he misses his beautiful country. Georgia is one of favourite tourist destinations for Lithuanians. Avtandil believes that probably the main reason for this is friendly and warm people. For the future tourists he advises to choose a good guide.
"We have many beautiful places in Georgia. For example, I would advise to visit Mcheta, where from Jvari church on the hill one can see all the city and the confluence of two differently coloured rivers. The city of Mcheta is ancient and beautiful and there is a legend connected to it, which every local will be happy to tell you. I am from the region with Abudelauri lakes, every one of them of different colours. It's really amazing view", remembers Avtandil.
Student-focused university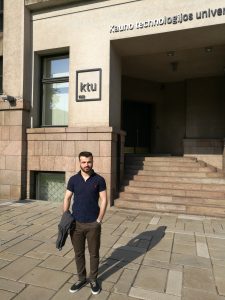 The student, coming from much warmer Georgia, says that he loves living in Kaunas. Except, Lithuania has one great disadvantage: "It is so cold in winter that one cannot get warm through the summer!"
Although he could have studied in English, Avtandil chose to study in Lithuanian. Technical language, different study system and new subjects caused him some challenges in the beginning. However, the ever-smiling Georgian student is already feeling at home in the University – not only studying, but also training and taking part in judo competitions.
"I can really feel that KTU is a student-focused university. That's your biggest strength", says Avtandil.
Being in the first year of his master's he still is not sure about his future plans: "I have many different plans. For example, I plan to go back to Georgia and to build my career there. Also, I plan to go to some other country to study PhD. We'll see, what happens".
Apply now for studying at Kaunas University of Technology (KTU) in the academic year 2018/2019. Quality education is a continuous journey of learning and development, full of new knowledge, discoveries, opportunities and ideas. If your goal is international studies, interdisciplinary competences and successful career – choose KTU for your degree studies. For more information, visit Admissions page.