"I like finance as it is not tied to any particular industry. You can apply your knowledge and skills in finance anywhere – be it banking, insurance, oil or any other industry", says Hasan Aliyev from Azerbaijan, who is graduating from Accounting and Auditing study programme at School of Economics and Business, Kaunas University of Technology (KTU) this year.
Hasan is studying Masters with the scholarship of Lithuanian State, which he won in the competition organised by Education Exchanges Support Foundation. The student from Azerbaijan chose KTU after a thorough examination of the study programmes provided by Lithuanian universities. He was impressed by the Accounting and Auditing study programme's association with the ACCA (Association of Chartered Certified Accountants) Qualification.
"I started studying for ASSA Certificate at home, in Azerbaijan. So, when I found out that KTU provides an exemption from 7 ACCA exams for its master's graduates, I decided to come here. In the end, I didn't use the exemption, but I was very happy to be able to focus on my studies without any distractions", admits Aliyev.
He was impressed by the quality of the KTU Library, which provides comprehensive resources for in-depth research. As studying both for his Master's and ACCA Certificate took up a lot of time (according to Hasan, one needs to study around 6 hours a day for every ACCA exam), he appreciated the opportunity to focus on studies while living in Kaunas.
Becoming a world-class professional
"Having ACCA qualification is a great asset. With a University degree and ACCA Certificate, you can be accepted to postgraduate studies in the best business schools around the world. And, of course, you are more valuable as an employee, sought after by the best companies", says Aliyev.
According to Hasan, ACCA allows to achieve a perfect link between academic and practical life, and as a result, makes the ACCA Certificate holder potential specialist in the finance and accounting industry. At the moment, three ACCA examinations are left for Hasan.
"During the exam, you have not only to know the theory, but also to apply it in practice as you are solving real cases from business and industry. This, actually, is the main advantage of ACCA qualification – while studying for the Certificate and solving real cases you get not only hands-on knowledge of how things are done both in profit and non-profit organisations, but also you get tools of how to apply this knowledge", says the young professional.
People are the greatest asset of any company
"Living in Kaunas is perfect. I had great conditions, the environment is clean and people are mainly friendly. I like Lithuania. For me it provided stress-free environment; I found it very beneficial for my studies", says Hasan.
Aliyev came to KTU already having work experience – for three years he was working in a catering company, managing projects with major players in the global oil industry, such as British Petroleum and others. Therefore, while considering career opportunities after graduation, he is aiming for higher than an entry-level position.
"I would like to find a job here, in Lithuania or in some other European country. I don't see myself performing simple tasks, I am seeking for positions with more responsibilities", says Hasan.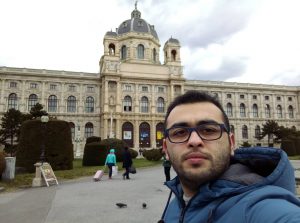 Half-jokingly he says that the companies, which ignore his motivational letters and CV's (he has applied to the main offices of the largest audit companies in Lithuania) are missing out: "I believe that people are the main asset of any company. If they don't hire me, it's their loss".
He values the opportunity to travel freely, which is provided by obtaining a Lithuanian visa and to work part-time with the Temporary Residence Permit. While studying at KTU, Hasan visited Germany, Austria, Slovakia, Czech Republic and other countries. KTU graduate believes that he would be happier working in Europe, as the overall level of the finance sector is higher and the professionals are more valued here. However, if this dream is not coming true, the ambitious finance specialist is planning to establish his own company in Azerbaijan.
KTU graduates are sought after in the job market
According to national rankings (magazine "Reitingai", May 2018), graduates of Accounting and Auditing study programme are highly valued by business and industry, their employability rank is very high.
"I believe that the high employability of our alumni is caused by our close cooperation with business companies and the high qualifications of our graduates. We are aiming to constantly increase the quality of both of these aspects, and we cannot imagine our programme without the participation of professionals from such organisations like OECD, PwC, KOMG or Swedbank", says Dr Lina Klovienė, Head of Accounting Programmes at KTU School of Economics and Business.
Accounting and Auditing is being taught in KTU in Kaunas (in Lithuanian) and Vilnius (in English). This internationally acknowledged study programme provides in-depth theoretical and practical knowledge of accounting and audit for pursuit of prestigious internationally recognised ACCA qualification and for becoming a professional in the accounting or finance sector.
INTERESTED IN STUDIES AT KTU? Apply now. Quality education is a continuous journey of learning and development, full of new knowledge, discoveries, opportunities and ideas. If your goal is international studies, interdisciplinary competencies and successful career – choose KTU for your Bachelor's, Master's, PhD or exchange studies.
For more information, please visit https://admissions.ktu.edu/