Smart heater for hot tubs, which uses wood pellets and can be controlled by an app, allows enjoying pleasures of the Nordic spa with more comfort, smaller expenses and less impact for the environment. Created together with Kaunas University of Technology (KTU) scientists, commercialised by TimberIN company, the smart heater equipped hot tubs are already being used by customers in Europe.
Technology and equipment created in collaboration with KTU scientists, working at KTU Santaka Valley, changes the process of water heating in hot tubs. Instead of logs, wood pellets are being used for heating the water; this produces higher temperatures faster, emits less smoke, ash and carbon and are cheaper.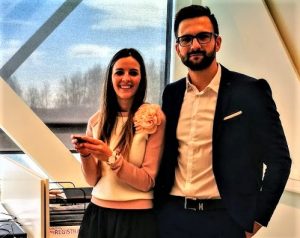 "Our innovation makes the process of water heating in the hot tub easier for the user – the ignition process is being controlled by a smartphone app, available both on Android and iOS platforms. The app allows monitoring water temperature both on the bottom and on the surface of the tub, and the user can set the desired temperature to be reached and maintained by the heater. This means that the users can prepare their hot tub in advance", explains Dr Albertas Klovas, one of the authors of the invention, researcher at KTU. He, together with Dr Rūta Klovienė is the co-founder of TimberIN, the company, which owns the product.
The wood pellets can be stored and handled easier – the heater chamber can store enough pellets for multiple uses. Once the heater is activated, the pellets are automatically moved from the chamber compartment into the combustion compartment to maintain the fire and reach the desired temperature. The users do not have to handle the heating process themselves which limits any possibility of fire or heat harm.
The smart heater technology was co-authored by Aurimas Rugaitis, KTU graduate, founder of the Rugaitis Company. Baltic Advanced Technologies Institute was another research organisation, which participated in the development of the technology.
The smart heater equipped hot tubs were introduced to the market 3 months ago and are being sold in Germany, Denmark, France, Norway, England, Ireland. The authors of the invention are planning to apply for the patent in 2020. At the moment, the smart heater is being modified for usage in outdoor saunas.