On March 26, 2020, considering the challenges currently faced by Lithuania and the whole world, the University's Publishing House Technologija is opening the new online reading platform for the KTU community.
The new, highly functional and user-friendly platform https://ebooks.ktu.edu/ will allow not only online reading, but also downloading publications to your computer, tablet, telephone or any other device and to access them offline. The platform is compatible with Mac, Android or Windows operational systems.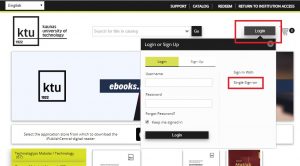 In the new e-reading environment, you will be able to sort the publications into shelves, to write remarks, to quote, to highlight the quotes and to print out the selected segments of the information. The new e-reading platform will be available not only via internal IP addresses of the Kaunas University of Technology but also from any other computer by connecting to it with your KTU network username and password.
We hope that the new online reading platform will make your study process smoother and more productive.
Should you have any questions regarding the new e-reading platform, please check the support section https://ebooks.ktu.edu/staticcms/support first, where all the relevant information in Lithuanian and in English is being posted. If you cannot find the answer to your question or have any remarks about using the new platform, please contact us at ebooks@ktu.lt.
The new e-reading platform will be regularly supplemented with new publications; the publications currently accessible at the old online reading environment https://www.ebooks.ktu.lt/ will be gradually transferred onto the new platform.
During the transitional period, both e-reading platforms will be accessible.