Earlier this month, the results of national study fields ranking was announced. KTU is a leader in 12 undergraduate and in 8 master's fields of study, which is the second best result in Lithuania. The ranking was carried out and announced in the magazine "Reitingai".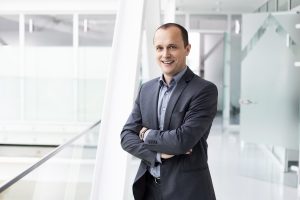 "Due to demographic situation and expansion to international markets, our environment is constantly changing, and the requirements from students are increasing. The fact that KTU is sustaining its strong positions in national rankings for several years now, is indicating that we have chosen the right path for development", says Jonas Čeponis, Vice-Rector for Studies.
The ranking published by "Reitingai" is the only national ranking of this kind. Among the criteria for the ranking was employers' opinion (2,194 employers' were questioned), entry scores of undergraduates, scientific activities of masters and the number state-funded places in doctoral study fields. Also, the salaries of the graduates from years 2010–2016 were taken into account.
KTU is the best in Lithuania in the following fields of study on undergraduate level: chemistry and chemical engineering, information systems and informatics engineering, production engineering, biotechnology, energy engineering, polymer and textile technologies, accounting, marketing and food and materials technology.
KTU chemical engineering, energy engineering, materials and food technology are the best in Lithuania on master's level.
"Although we are especially proud for achieving better results in technologies study field, we are happy that our package of study programmes is not limited to this field. KTU graduates boast interdisciplinary competences. International companies, such as Hella, Continental, Hollister, Centric and others, who not only choose to expand their business in Kaunas, but are also expressing high interest in collaboration with KTU, is a great stimulus to develop", says Čeponis.
The efforts pay of – according to the rankings, the employers' evaluation of graduates grew in majority fields of study. These results correlate with the growing potential of the students – KTU is a first choice for an increasing number of strong high school graduates.