For the second time, Kaunas University of Technology (KTU) is organising the international teaching week Global Faculty Week 2021, which will take place online this year. The event aims to enrich the content of study programmes with an international component and to strengthen cooperation with University partners around the world.
On March 22–26 over 60 lecturers from 25 countries will give lectures to the KTU students from all the faculties and share their knowledge and experience. Most visiting lecturers will be teaching at the Faculty of Mechanical Engineering and Design and the School of Economics and Business.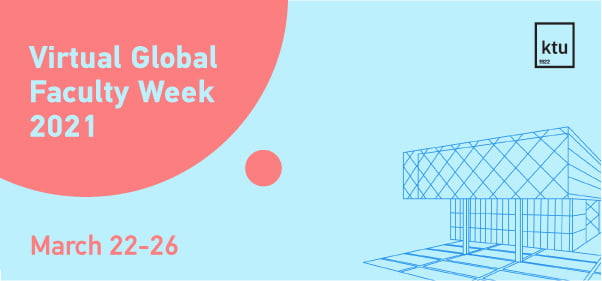 "2020 brought many challenges to the higher education community in the wake of the COVID-19 pandemic. This is especially felt by the students who cannot imagine studying without international experience and the opportunity to study or do an internship at universities or companies abroad. Unexpected changes have forced us to look for new forms of work, such as mixed and virtual mobility", says Virginija Savalenkovienė, KTU International Academic Exchange Specialist and the coordinator of the Virtual Global Faculty Week 2021.
According to the organisers of the event, the KTU International Relations Department, the event's new virtual format is attractive to a larger number of participants. It provides an opportunity for virtual participation of teachers from such distant countries of the world as India, Ecuador, Oman, Brazil, Colombia, Malaysia. Comparing to the last year, more KTU academic departments and lecturers joined the event – they will accept colleagues from abroad into their classes. The KTU students will listen to lectures by the foreign teachers safely at home.
The event will be attended by experts from various fields, who will not only give lectures on relevant topics but will also participate in intensive virtual information and cultural programme, get acquainted with KTU, Kaunas and Lithuania. The well-known singer Laurita Peleniūte will introduce the sutartinė (traditional Lithuanian multipart singing) way of singing, included in the UNESCO list of intangible heritage, and will invite all the participants to sing together.
"After the first Global Faculty Week, we received a lot of positive feedback from both KTU and the visiting teachers. They were happy with the contacts established and the new cooperation opportunities. Many of them admired Kaunas and its architecture, where both old wooden, modernistic and contemporary buildings fit together harmoniously. After all, some of the participants visited Europe for the first time", said Savalenkovienė, stating that the event not only increases KTU's international awareness but also promotes Lithuania as a country.
This year, the members of the Virtual Global Faculty Week 2021 will be able to participate in two joint events where they will be able to share their insights, discuss and network.
Register to participate in the following events:
Workshop "Physical vs. Virtual: Challenges of the New Reality" on 23 March, 3:00-4:30 PM. Registration
Virtual Networking Café on 25 March, 2:00-3:00 PM. Registration
More information: https://bit.ly/2MprHEO