Situations when we forget home keys or important documents while rushing to work, or when we have to juggle the appointments around in order to fit in unexpected tasks, such as collecting clothes from dry cleaners, is familiar to everyone. Programmers of Present Connection, a digital services enterprise in Lithuania are developing a unique parcel delivery system, which could be of help in such cases. At the moment ishipit, the platform, which allows anyone to become a courier, is being tested in Bussum, Netherlands.
"Our aim is to make people feel as comfortable as possible in the fast living world", says Julius Degutis, one of the programmers working in the project, Kaunas University of Technology (KTU) alumni.
Using the platform is very easy: anyone, willing to become a courier can register and start providing delivery services according to their availability, prices and locality. Customers can see all the information and choose the courier according to their needs.
"We are not providing any services, our platform is just a middleman between customers, various service providers, such as shops, and couriers. For example, if a person has a shop where he or she sells natural honey, they can register in our system and become visible to our clients, who can then order their goods and choose a delivery man to get them delivered to their door", says Degutis.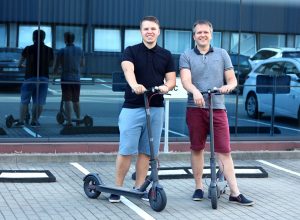 Iship is functioning as an app, available on iOS and Android operating systems. Darius Orvidas, the iship team leader reveals that the platform can be used in 4 different ways: for returning the parcels bought on internet, for delivering parcels from A to B (especially useful when you forget an important thing at home and want it delivered to your work place), for services when additional payment is required (for example, when collecting clothes from drycleaners), and for food delivery.
"We are unique in this way, as mostly similar platforms are concentrating on one type of services, for example, food delivery. Also, our couriers can supervise the menus of cafes and restaurants themselves, and to earn bonuses from deliveries", explains Orvidas.
The app is integrated to the third party services, such as Post.nl, which allows to check the address, with Google Maps, with Dutch online payment system OBP and others. All the data to the platform is being delivered by Application Programming Interface server.
Iship, which is being programmed and developed in Kaunas, Lithuania, is a Dutch startup company. Currently it is being tested in Bussum, a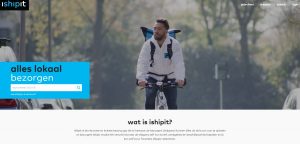 Dutch city with a population of around 30 thousand people. According to developers, the relatively small locality allows to react to mistakes and various programming bugs easier.
In the future, the startup is planning to expand into other markets, firstly – to other Dutch cities. According to its creators, the main challenge for international expansion of the platform is to adjust it to the specific legislations of a country.