ECIU University will realise a fully-fledged European university with a hybrid European campus towards 2030. ECIU's proposal to the EU has personalised, flexible and challenge-based learning pathways at the core, with a strong focus on research-based micro-credentials.
On 22 March 2022, the European Consortium of Innovative Universities (ECIU) submitted its proposal to the EU's European Universities call. The ECIU University with its 14 partners has been the biggest alliance of the pilot phase. The further roll-out of ECIU University is built on the lessons learned from the successful and positively evaluated pilot phase of the past three years. The concept evolves around the individual needs of learners, industry and society at the European level.
"We are excited about the next phase of ECIU University. We learned valuable lessons during the pilot phase and look forward to move towards the start-up phase moving us closer to our joint ambitions for 2030 with the support of the European Commission," says Director of ECIU University Sander Lotze.
ECIU University's next phase will start in November 2022. By 2026, ECIU University will be an ecosystem of thousands of learners, hundreds of academics, external stakeholders, challenges to solve and micro-modules on offer, ready for creating sustainable societal impact in Europe.
The educational model of ECIU University serves both students in the partner universities and continuous learners looking for upskilling and reskilling in 21st century skills and competencies. In addition, various support mechanisms necessary for a fully-fledged European university will be developed.
The University strongly relies on expanding the joint digital platform to connect the universities and the stakeholders. The ultimate goal is to empower European people and organizations to build open European knowledge-creating teams where societal stakeholders together with learners and academics solve real-world challenges.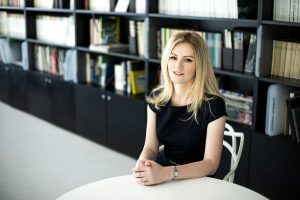 "The value of the European University Initiative is unquestionable. The joint University will allow us to offer flexible and individualized learning opportunities, will create an ecosystem of stakeholders and increase internationalization", emphasizes Director of KTU Department of Academic Affairs and ECIU University Institutional Coordinator Kristina Ukvalbergienė.
According to the Director, in the first stage of funding, ECIU University offered learning opportunities: students from KTU and other European universities together with companies solved challenges. In total, ten challenges were proposed by Lithuanian companies; 190 KTU students participated, together with students from all over Europe; Solutions were offered to more than 30 challenges.